STI Inaugurates Modern Super Post Panamax STS Cranes to Continue Driving Port Competitiveness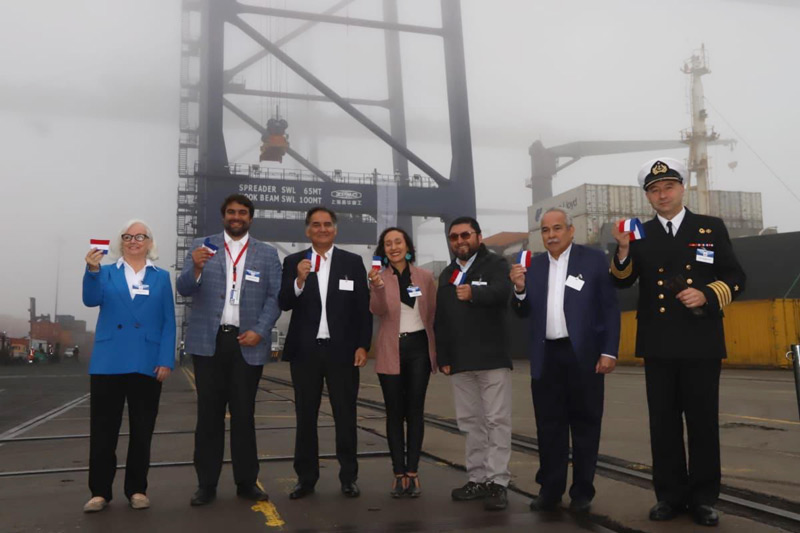 This morning San Antonio Terminal Internacional (STI) -a company operated by SAAM and SSA Marine- inaugurated its two new Super Post Panamax ship-to-shore cranes, positioning the port at the forefront of the domestic and Latin American market.
"These cranes are great news not only for STI and San Antonio, but for the entire country. We need more competitive ports, especially in a country open to the world like Chile. The new equipment is part of our US$66 million investment plan, which allows us to strengthen our operations for the future and better serve foreign trade," said the chairman of STI's board, Mauricio Carrasco.
This is the most significant investment to develop the industry and involves new equipment, infrastructure and technology, which will strengthen services and customer service, and includes the acquisition of these two cranes, plus two rubber tyred gantry cranes, 19 reachstackers, 1 empty handler and 50 terminal tractors.
STI's CEO, Rodrigo Galleguillos, emphasized that "throughout its history, STI has set important milestones for the industry and this is yet another one, thus reaffirming its leadership in the country. We are making investments to keep the port modern, safe and efficient."
Sally Bendersky, chairwoman of the Port of San Antonio (EPSA), noted that "this investment plan, which includes its new STS and RTG cranes and which will extend STI's concession until 2030, reflects the serious and committed work of our concessionaire to modernize and innovate with state-of-the-art technology. This is how we must move forward to provide greater safety to workers and more efficiency to the port, in addition to increasing the competitiveness of Chilean foreign trade by sea. In addition, STI is a pioneer in Chile at introducing new technologies and that role is very valuable for the port."
The ribbon-cutting ceremony was attended by executives from SAAM and SSA Marine, STI's controlling companies; local authorities such as the Mayor of San Antonio, Constanza Lizana; the provincial delegate Caroline Sireau and terminal workers.
The Mayor of San Antonio, Constanza Lizana, said that "San Antonio is Chile's main port, the one with the largest throughput. Today, when these new cranes are inaugurated to improve transfer capacity, we remember once again that the port is its people, those who do the loading and unloading; the port is more than iron and cement. We are very happy to be here for this moment to commission these giant cranes. They will be operated by San Antonio hands and will continue to make San Antonio the most important port in Chile, guaranteeing the supply of its communities."
About the Cranes
The fully assembled cranes weigh 1.3 tons and have a reach of 22 container rows and 60 meters. Additionally, the lift height is 42 meters and the main structure is built at 78 meters above the ground.
With them, STI will be the only terminal in the country capable of handling two SPP vessels simultaneously.
STI transfers about 27% of the country's containers and this plan will increase its capacity to 1.6 million TEUs. In 2022, it transferred 1.1 million TEUs.