The most modern, longest-reach gantry crane in Ecuador and the region arrives at TPG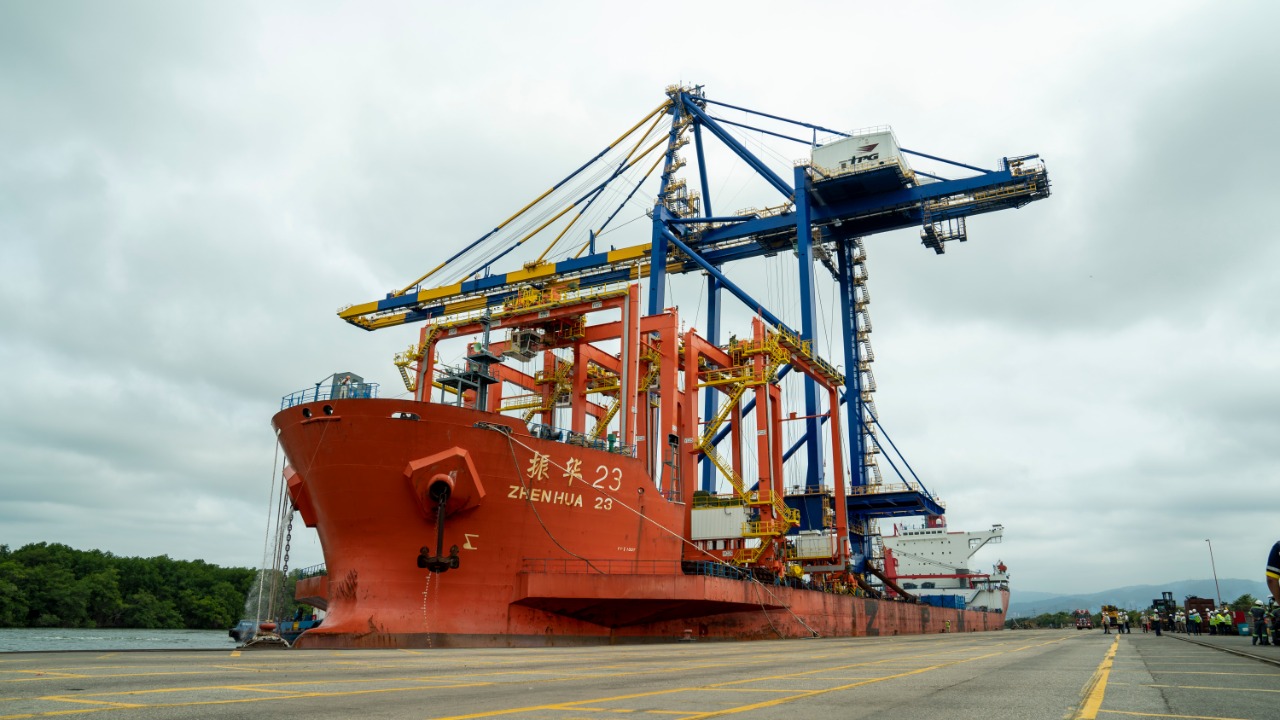 A Gantry Super Post-Panamax crane arrived at Terminal Portuario de Guayaquil (TPG) on Friday, August 19, to optimize and strengthen TPG services.  The crane has a reach of up to 24 rows of containers and 48 meters under the spreader on tracks, making it the most modern, longest-reach crane in Ecuador and the region (West Coast).
Standing at more than double the height of the Torre Morisca (one of Guayaquil's iconic symbols), the new equipment will be the country's most modern.  It will streamline moving cargo and unloading containers at the terminal.
TPG General Manager, Luisenrique Navas, highlighted that the crane, equipped with the latest technology, is very reliable.  It is the fifth STS crane at Terminal Portuario de Guayaquil, the Ecuadorean port that has moved the highest quantity of containers in the last four years.
"We know that the maritime-port industry is constantly evolving.  We must be prepared to satisfy our clients' demands through constant investment in infrastructure and equipment to guarantee timely, efficient service for the ships on the routes operating at TPG.  This includes services to Asia, the Southern Cone, and the Mediterranean."
After unloading the crane on the dock, assembly and installation will begin.  It will be operational in approximately three weeks.  The Gantry Super Post-Panamax is in addition to the Terminal Portuario de Guayaquil's two Super Post-Panamax and two Panamax cranes.  (Two of these have a reach of 22 rows, while the remainder have a reach of 15 rows.)  Likewise, four third generation HRTG hybrid gantry cranes featuring technology that aligns with the terminal's sustainability policy are scheduled to arrive during the first quarter of 2023.  The new equipment will add to the seven Rubber Tire Gantry (RTG) cranes currently operating at the port.
In its 16 years of operation, TPG has invested more than USD 174 million on crane purchases, dock, and support area expansion; logistics systems and procedure automation; infrastructure and technology equipment; dredging along the mooring front; and other investments.
"The aim is to constantly improve the service we provide to the shipping lines that dock at TPG.  This includes the world's leading shipping lines.  We have become a strategic partner for producers, exporters, importers, and all those involved in the port logistics chain," remarked the TPG General Manager.
Cargo movement projections for 2022 at Terminal Portuario de Guayaquil are in line with 2021figures, which at upwards of half a million containers, represent more than 40% of Ecuador's total foreign trade containers.  Furthermore, it is important to note that TPG, directly and indirectly, provides approximately 1,200 jobs.