ATI is the first Chilean terminal with sustainable lighting for operations areas and mobile equipment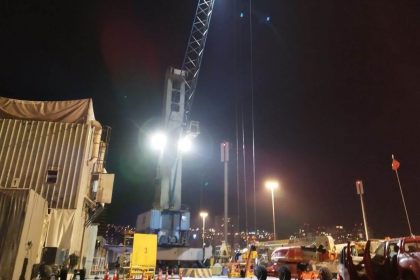 Antofagasta Terminal Internacional (ATI), operated by SAAM Terminals, installed LED lighting on all its port cranes, making it the first port terminal in Chile with this type of lighting for its operations areas and Gottwald and Liebherr mobile equipment.
From a safety perspective, the aim is to improve operations with ships, working together to increase productivity. LED lighting also significantly reduces electricity consumption and light pollution. The latter is regulated by the Ministry of the Environment's Supreme Decree No. 43/2012, which protects northern Chile's clear skies.
ATI's Deputy Manager of Engineering and Maintenance, Emerson Villacura, who is responsible for the project, remarked, "As part of our commitment to safety, the environment and ongoing improvement, this project aims to improve working conditions for crane operators and ensure the proper execution of tasks carried out during night shifts. In addition, in keeping with our sustainability strategy, we are focusing efforts on the energy efficiency of our operations. Part of that is reducing the energy consumed for lighting."
ATI replaced its halogen lights with 232 LED lights in 2019 to standardize and improve lighting in operations areas. It has now collaborated with partner company, Fesanco, to install new LED lighting on the MHCs.